Local bus service extends into Alconbury Weald and helps young people get about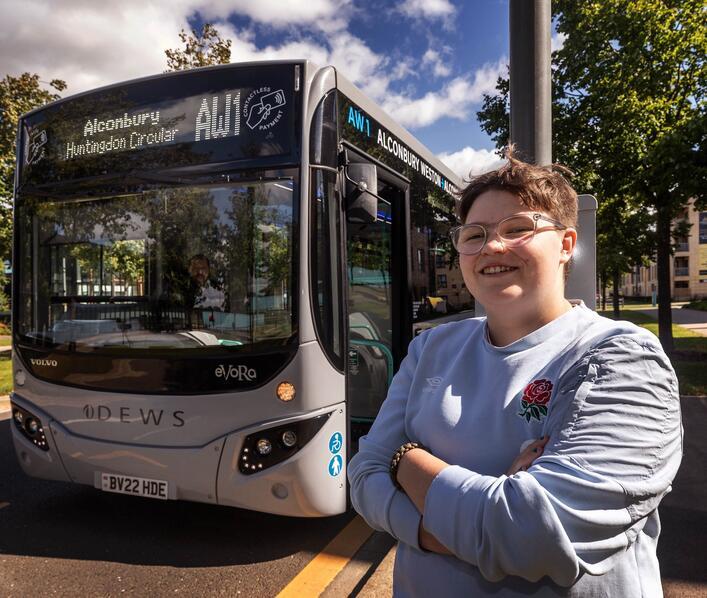 The AW1 bus service – which recently celebrated carrying its 30,000th passenger – is now connecting even more people. Launched in January last year, the service - which is funded by the Alconbury Weald development – connects Alconbury Weald and the surrounding villages to Huntingdon town, and bus and rail station. With more roads opening up within the development, the service will now reach more residents within the new community. 
The AW1 bus will now travel through Alconbury Weald - along The Boulevard, down Senliz Road and along Swynford Road, stopping by Garland Park and between Swynford Stores and Ermine Street Church Academy – before heading out onto Ermine Street.
The service, which uses a specially designed low carbon vehicle, is part of masterdeveloper Urban&Civic's commitment to low carbon living and to improve sustainable transport options, so people living and working at Alconbury Weald have a convenient and reliable alternative to the car, while also supporting travel connections for neighbouring villages.
In direct response to feedback from young residents, Urban&Civic is also subsidising AW1 tickets for young people (up to 21) to encourage sustainable travel habits from an early age.  A trip will now cost £1.50 with a flexi ticket (£15 for 10 journeys – valid for 12 months) or £2 for a single journey ticket.
Alconbury Weald resident Charlie said: "The changes that have been made to the AW1 are great. Now a young person is someone up to the age of 21, allowing more people to access cheaper travel, which I have greatly benefited from. The fact the AW1 comes more often than the 904 also helps, as it keeps Alconbury Weald more connected to Huntingdon and helps make travel easier. The bus drivers have also been very friendly and helpful, providing the best service possible and reducing levels of anxiety some may have about using public transport."
Saver tickets are also available for adults, with adult flexi tickets costing £24.00 for 10 journeys.
Rebecca Britton, Regional Director of Communications, Communities and Partnerships for Alconbury Weald, said: "Urban&Civic continues to make a significant investment in sustainable transport, and it's great to be able to extend the AW1 route through Alconbury Weald and discount bus tickets to further encourage a shift away from car use.  We've also been adding some additional incentives and promotion to Alconbury Weald residents to encourage them to use the bus more during the summer holidays."
Bus tickets can be purchased via the ticket machine on the bus (which offers contactless payment options) or via the myTrip App. Bus timetables are available to view online at www.traveline.info