Alconbury Weald community help wildlife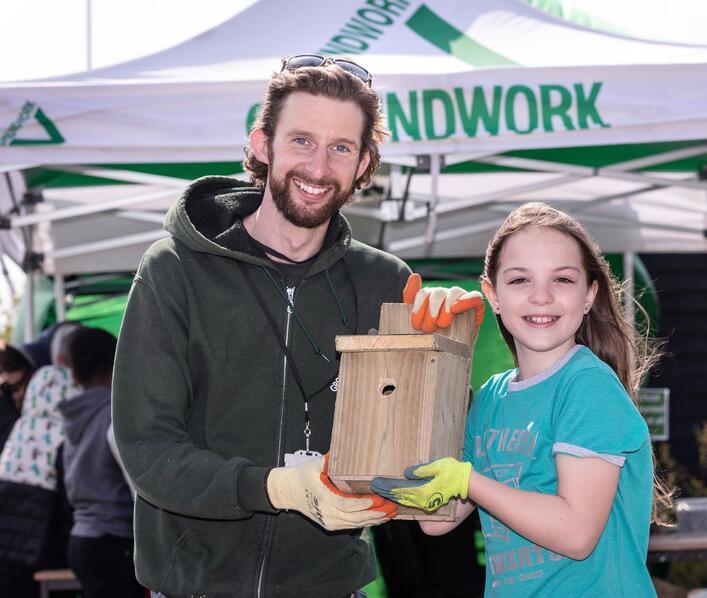 Families in Alconbury Weald had a nature-filled weekend in the sun learning how to build birdboxes and make feeders to attract birds to their back gardens and balconies, as well as tidying up the allotments at Ermine Street Church Academy ready for the children to plant flowers and vegetables.
Urban&Civic, master developer of Alconbury Weald, teamed up with local environmental charity Groundwork East to show children how to construct a homemade birdbox using offcuts of wood and nails, and birdfeeders made from pinecones, to support the local bird population - including sparrows, swifts, swallows and house martins - during nesting season.
Volunteers also helped at local primary school, Ermine Street Church Academy, to clear weeds and start tidying up the allotment ready for the children to learn about the growing cycle of herbs, vegetables and flowers as they get their beds and planters ready for the Platinum Jubilee bank holiday weekend and Alconbury Weald's first Open Gardens event.
Natalie Leigh-Brown, Community Lead for Alconbury Weald, said: "We had a lovely Saturday last weekend enjoying time in the fresh air and learning how to make birdboxes and feeders. Our thanks to everyone who came along to support the activities, and to the Groundwork team for sharing their skills and knowledge.
"We'd also like to thank all the volunteers who helped with the allotment clearance; we can't wait to see what the primary school children do with it at our Open Garden event on 5 June."