Alconbury Weald: The natural choice for the Gupta family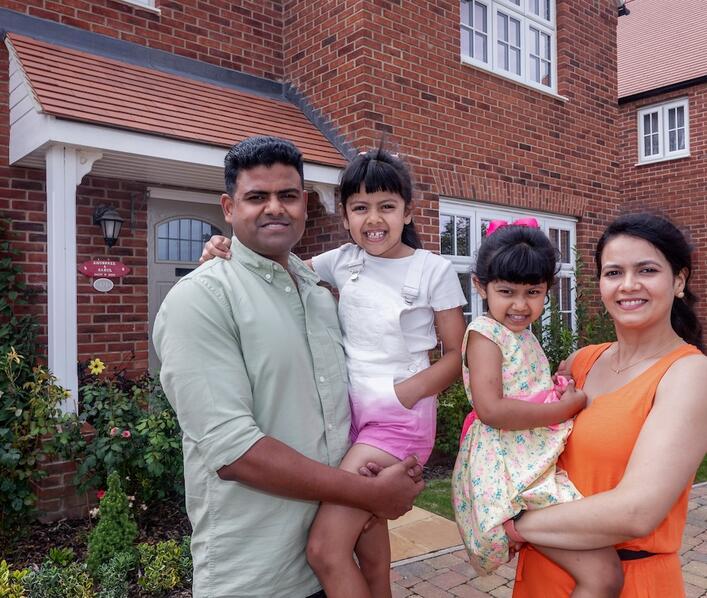 When Anushree and Rahul Gupta decided to set down roots, Alconbury Weald was the natural choice for them.
Having rented in Cambridge and Cambourne, they were looking for a green and nurturing environment to settle down and bring up their two daughters, and Alconbury Weald ticked all the boxes.
Anushree said: "From the moment we visited Alconbury Weald we could see our girls having lots of fun growing up here and knew this was where we wanted to buy our first family home. As well as being in the perfect location for us, there is so much green space, and everything is so well maintained and organised."
From the extensive range of homes available from different housebuilders, Anushree and Rahul fell in love with a four-bedroom Redrow home that gives them the light, bright family space they were looking for.
They moved into their new home in December 2020 during lockdown and, although a challenging time to meet neighbours and settle into a new community, the family kept busy by unpacking and putting all the finishing touches together to turn their new house into their dream home.
Since then, the Gupta family has embraced life at Alconbury Weald. Rahul a software engineer, is mainly working from home with a commute to London once a week, Anushree is running yoga classes at The Pavilion on Tuesdays and Saturdays, and both girls will be attending Ermine Street Primary School from September 2023, with Samaira starting Reception and Shanaya moving up to Year 2.
Anushree said: "Alconbury Weald is a great place to live. Everyone is so friendly and there is a great sense of community. We've made lots of friends and have lovely neighbours that we celebrate important festivals with, such as Diwali and Holi Festival of Colours.
"The Pavilion community centre is a great space, and my yoga classes are well attended with regulars coming back each week and welcoming new faces as people move in. I've also taken part in the Community Activity Days, which give residents a free session to try out some of the sports clubs and fitness classes at Alconbury Weald, so they know about all the ways to stay fit and healthy at Alconbury Weald. 
"My girls, who are now 4 and 6 years old, love living here and really enjoy all the different parks, which all have different play equipment so there's always something new to discover. Their favourite is the park with the big slide (Swynford Park), but they also love playing in the sand and on the steppingstones.
"There's always lots going on around Alconbury Weald. The girls really enjoy storytelling in the community library and we've been to a few of the community events including last year's summer fete with food trucks and face painting and my husband took my eldest daughter to one of the outdoor cinema events.
The new Co-op, based at The Glade, has also been a great addition and it's really handy to be able to get the main food shop at Alconbury Weald rather than having to drive into Huntingdon.  We're looking forward to seeing what other shops come forward in The Glade.